itattooz wiki:Community portal
From itattooz wiki

Tattooz Artist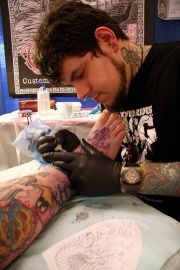 A artist who has been fully trained in all kinds of tattooing. On the other hand we can describe that who can trace a design with a tattoo machine. This kind of established business called a "tattoo shop," "tattoo studio" or '"tattoo parlor". Many tattoo artist work on formal tattoo but other experts work in inventive mediums. Tattoo artist use skill to execute better tattoo by using imagination, creativity, proper color blending and shading and also talented in without guide design.
Apprenticeships
Apprenticeships are the part of learning by the teacher. Students teach by the trainer about this business that how they can carry forwards this work. Tattoo artist or student must have a passion in art and drawing and should be able to draw anything. Most of people want to become a tattoo artist. Most of artist mistake of buying a kit & practicing on their friends, therefore it can be very dangerous. Most of people not become accurately successful tattoo artist. And never acquire the skill to compete in this highly competitive business.
Tattoo Artwork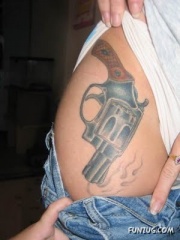 Customer will like original tattoo on their body, then tattoo artists can generate unique tattoos for their customers. A tattooist may use many kind of variations in tattoo designs. They may use flash.
A tattooer is a bad artist who uses bad quality ink or they cannot make nice design. Try to show smart artist and they make fool to the customer.
Tattoo tools
Most of tattoo artist tools uses tattoo gun. I hope u would like to know, which is the device used in tattoo shop? I tell you..its called Autoclave.
Gun: - tattoo artist use tattoo gun for black and white shading, color shading and lining.
by its original design and concept the traditional machine has not changed. With the grow of new machine designs, both air and electric powered tools. Tattoo machine have made into the industry. Many different needle sets used by practitioner, like round shade needles, round liner needles, flat shade needles and magnum needles. The amount of needles attached to the needle bar change also. 15 to 55 needles on one bar, this is the large magnum needle groups rang. For provide a tattoo practitioner must have the basic tools. Basic tools for tattooing is the tattoo machine, power supply, foot pedal, clip cord, grip, tips, needles, grip stem and tattoo ink.
Tattoo Studio
Tattoo Studio
A tattoo studio is a place of business for creating tattoos designs anywhere on body. It's also known as tattoo shop and tattoo parlor. For opening a tattoo studio are required license and health department does regular inspection of tattoo studio. tattoo studio employs can anywhere one or more, and its depend on the size and popularity. You need to specialization in this field for opening tattoo studio. because many types of costumer can come at your shop and they can put any question about it. You will have to prepare for it. And costumer can want special types of tattoo who has never made before by anybody. Are you thinking for create tattoo on your body? Before you go and get inked, I would like to tell you what u should look in a tattoo shop. Its importance tips for you:-
Check the tattoo shop Appearance :-
If you are going into a shop, the first thing you should check is cleanness. You should definitely go in and fully satisfy in own self that this is nice clean studio and it's certified by health department. You should inspections everything that its nice n clean studio. if you notice any smells bad, or looks bad. You must have to go back home. There not should be food, no drink, no cosmetics, no animals, no smoking anything. And you should be sure that this studio is properly clean.
Ask About Tattoo Equipment:-
Everybody has own particular equipment like- tubes and needles, the machines, power supplies, and supplies- you should notice that this razors is our own personal razors and its not use again n again. They are ink- caps throwing away. The aprons and baggies are all for single use. This is organic inks n safe for use and they always put it into a cup and it`s throwing away after use.
Find Tattoo Shops through Referrals:-
Referrals are really very important to me because that`s show how you build up your clientele base. If you are not good people, people will not refer you. And sooner or later, if you are not any good and if you are bad with people- they`ll know that.
Note the Tattoo Artist's behavior:-
You should look tattoo artist behavior that it's good or bad. How they treat to costumer, is they kind, polite and helpful with people? They should have knowledge and manner if you don't see any this kind of feature than you can ignore this types of tattooist.
If you are searching for a tattoo shop, it's very important lessons for you that don't believe on anything whatever tattooist saying until you go in. check everything before go in, is it properly clean or not, and they can really make good artwork, they should look passionate about artwork whatever they do, than you can go without any doubt and hesitation.